Boscolo Hotel Carlo IV*****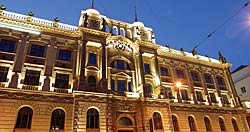 The recent opening of the hotel "Carlo IV" by the company BOSCOLO became the event of the year 2003 in the tourist business of Prague. No doubt, Hotel "Carlo IV" is the most majestic hotel in the 5 star hotels category in Prague. Situated in the historical centre of the city, in a magnificent neo-classical palazzo, it's the unique place where you can find a refined ambience that gives character to luxury. The luxury and comfort flow through from the room to the restaurant, from the business centre to the Cigar Bar, to the indoor swimming pool with its striking mosaic floor. The fragrance of old wood, the splendor of the finest marble, classic tympanums, elegant finishes and ornate stuccowork: everything expresses exclusive hospitality.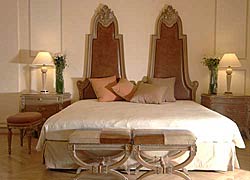 What is the color of luxury? Subtle sage, muted gold and rich mahogany brown. Its sound? Soft music in the background, muffled footsteps in the distance and rustling silk. The smell of luxury? Freshly cut flowers, lustrous polished furniture and scented soap. The taste? Hot coffee, warm pastries and chilled champagne. And the feel? Plush velvet, smooth satin and textured damask. All five senses will be awakened in the "Carlo IV". Its 152 splendid rooms, including 42 deluxe rooms, 20 Junior Suites and Suites, designed by architect Maurizio Papiri, are the epitome of genteel elegance. Advanced technology and fine amenities are the additional luxuries that make the "Carlo IV" the preferred address for the discerning traveler.

BOOK YOUR HOTEL
| | Double room de luxe | Double room superior | Single room de luxe | Single room superior | Triple room de luxe |
| --- | --- | --- | --- | --- | --- |
| Law season | 130 | 104 | 238 | 184 | 103 |
| Middle season | 147 | 121 | 273 | 221 | 115 |
| High season | 171 | 144 | 320 | 266 | 130 |

* Prices are in euros / per night / per person / with breakfast
| Law season | Middle season | High season |
| --- | --- | --- |
| 4.01.06-31.03.06 | 1.04.06-13.04.06 | 14.04.06-17.04.06 |
| 1.07.06-31.08.06 | 18.04.06-30.06.06 | 1.09.06-31.10.06 |
| 1.11.06-28.12.06 | | 29.12.06-2.01.07 |