Hotel Apartments Juliš****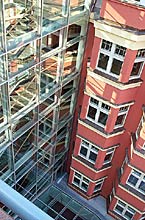 The "Julis Hotel Apartments" are located in the heart of Prague and consist of 72 apartments. Originally built in 1926 by renowned Czech architect Pavel Janak, the building is found in what is known as Prague's "Golden Crossroads", because of its desirable location close to shops, offices and residents. The Hotel Apartments has carefully maintained the original Art Nouveau style of the building but all apartments are being renovated with modern facilities. Each apartment comes equipped with kitchenette, including a refrigerator, microwave oven and dishwasher. A TV is also included with 24-hour coverage of local and international channels. Dual-line telephones, data port, fax facilities and internet connection are of course available. Within the hotel is a breakfast room which overlooks the peaceful Franciscan Garden situated behind the building. Additional services are available on request including extra cleaning service, laundry and grocery shopping service, health and fitness facilities.
Around the Wenceslas square you will find plenty to do, with a variety of shops, restaurants, bars and cinemas, amongst them some of the Prague's most exclusive. The area is also the centre of the capital's cultural life with a host of displays, exhibitions, shows and musical events happening at any time.

BOOK YOUR HOTEL
Apartment
queen bed
Apartment
twin bed
Apartment
single bed
Apartment
2 rooms – 3 pax
Law season
47
54
75
45
Middle season
52
59
85
49
High season
65
72
105
59
Top season
80
87
130
70

* Prices are in euros / per night / per person / with breakfast
| Law season | Middle season | High season | Top season |
| --- | --- | --- | --- |
| 4.01.06-31.03.06 | 1.07.06-10.08.06 | 1.04.06-30.06.06 | 14.04.06-16.04.06 |
| 1.11.06-28.12.06 | | 11.08.06-31.10.06 | 28.04.06-01.05.06 |
| | | | 25.05.06-27.05.06 |
| | | | 02.06.06 04.06.06 |
| | | | 15.06.06-17.06.06 |
| | | | 29.12.06-04.01.07 |