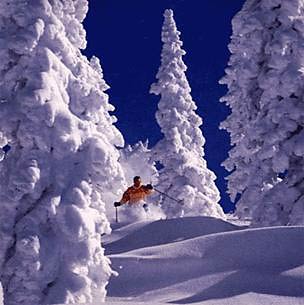 It's bleak, it's cold – and it's only February. Don't give in to those winter blues! Here in the Czech Republic, this is the height of ski season. Our Mountain Ski Package takes you to our most popular ski resort, situated in the towering Krkonoše Mountains in northern Czech Republic. Skiing enthusiasts will find optimum snow conditions, superb slopes and sports facilities awaiting them in the majestic beauty of the Krkonoše Mountains. There are numerous cozy pensions and fully-appointed apartments to accommodate the visitor. A host of restaurants provide delicious meals in which to feed the appetite you have worked up after a day on the slopes. When the sun goes down, there is a range of entertainment to choose from. Warm your bones with a mug of the hot mulled wine or Grog on offer at the local cafes. Refresh your aching bones in the sauna. Test your luck at the casinos. Dance your heart out at the discos. The top-notch skiing conditions, friendly service and vibrant nightlife combine to make the Krkonoše Mountains a favorite with Czechs and international visitors. So, wax your skis! Our Mountain Ski package provides a sure cure for the winter blahs…

DETAILS OF PACKAGE...
Type of the tour: for individuals & groups
Duration: 10 days / 9 nights
WINTER IN CZECHIA'S KRKONOŠE
(10 days / 9 nights)
Price of the package (accommodation in DBL / with breakfast)
Price of the package (accommodation in SNGL / with breakfast)
Group (min. 20 persons)
369 euros / person
409 euros / person
Group (min. 10 persons)
399 euros / person
449 euros / person
Individuals (min. 2 persons)
599 euros / person
649 euros / person

WHAT'S INCLUDED...