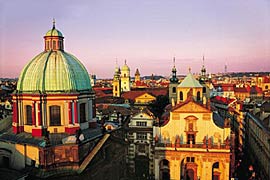 Looking for a quick break from the daily grind? Give yourself a super weekend in Europe's most beautiful city, Prague! Two whole days filled with visits to Prague's most exciting sites, terrific excursions, mouth-watering gastronomic delights and fascinating events! You will travel to fairytale cities and magnificent medieval castles, see how the world's best beer is brewed, visit Prague's legendary pubs and sample traditional Czech dishes. Come experience the friendly, relaxed atmosphere of our wine cellars and taverns! Take a break from the humdrum in magical Prague, and you are guaranteed a weekend to remember!

DETAILS OF PACKAGE...
Type of the tour: for individuals & groups
Duration: 3 days / 2 nights
WEEK-END IN PRAGUE
(3 days / 2 nights)
Price of the package (accommodation in DBL / with breakfast)
Price of the package (accommodation in SNGL / with breakfast)
Group (min. 20 persons)
99 euros / person
115 euros / person
Group (min. 10 persons)
120 euros / person
135 euros / person
Individuals (min. 2 persons)
225 euros / person
240 euros / person

WHAT'S INCLUDED...