Brewery "U Fleku"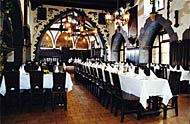 A building which has served as a pub to countless generations for more than 400 years, eight spaces, each with its particular charm & character & folk brass bands playing everywhere… You can sit on a timber chair which is 150 years older than you & order a branded old Czech goulash with dumplings, the recipe of which has been kept a secret for centuries. It's also a great place to strike up a conversation about the history of the brewery business – you'll find the place full of "experts" on the subject!

Average price of dinner (3 course menu, drinks not included) — 15 euros / person
Brewery "U Kalicha"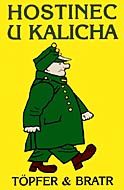 Particularly everything will make you feel part of the famous Czech novel "The Good Soldier Svejk" by Jaroslav Hašek, the theme on which the restaurant is based. It has all the essential features of a traditional Czech pub: the main dining space hosts several hundred guests; the menu offers generous portions of traditional local food washed down with 1-liter glasses of Czech beer. The walls are covered with large cartoon depictions of the literary character Svejk & quotes from Hašek's book. This is a veritable Mecca for visitors to Prague!

Average price of dinner (3 course menu, drinks not included) — 15 euros / person
Brewery "U Hrocha"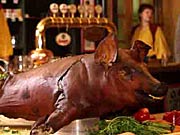 Lunch at the traditional Czech pub U Hrocha is not a tourist attraction, but it is an honest-to-goodness treat for beer aficionados! U Hrocha serves up the best beer, hands down - Plzen! While you whet your whistle there are plenty of traditional Czech pub dishes to sample, such as the soft, pickled Hermelin cheese, and fried pork fillet with potato salad. If you are really hungry, nothing beats koleno, a huge pork knee with horseradish that you can easily share round with all your table companions!

Average price of dinner (3 course menu, drinks not included) — 7 euros / person
Brewery "Kolkovna"
A large, gleaming copper beer vat looms large behind the barman as he pulls one more beer. Intriguing archive material from the Pilsner brewing giant creates a sense of history and sets the scene. Guests can sit at large tables or on bar stools near the entrance enjoying traditional Czech dishes such as pigs trotters, ribs or roast duck as well as lighter Italian salads. Its key corner location in the Old Town attracts a mixed crowd of locals and tourists. The cornerstone of the Kolkovna restaurant philosophy is the tradition & uniqueness of the Pilsner Urquell brand & Czech cuisine wed with modern gastronomy.

Average price of dinner (3 course menu, drinks not included) — 15 euros / person